2018 is well underway (was anyone else surprised to learn that it's February already!), and having had the luxury of some time off to kick-start the year, I took advantage of being comfy in front of the fire and caught up on all my favorite blogs, Pinterest accounts, and home renovation sites and magazines (you know that downtime was overdue when the first magazine you pick from the basket boasts a gorgeous outdoor patio setting from Summer 2016…yikes)!
I have never really been a "trends" person, either when it comes to home décor or clothing, but just like the insane creations we see on high fashion runways, you can get a lot of inspiration from the design trends that emerge each year, and integrate it into your own personal style.
Take one of the big color trends of 2017 – millennial pink!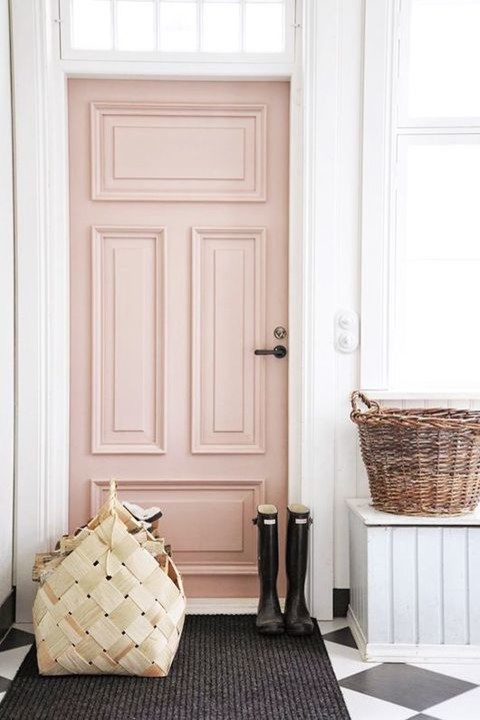 Some say that this soft, blush pink will peak in 2018, to be replaced by bold purples, however it happens to be the exact shade I have been slowly working into our home as an accent color (beginning in 2016) and I have big plans for it well into 2018 and beyond. If you are looking to add a little pink in your home, Elle Décor has put together a list of 14 shades to try.
According to House Beautiful, reclaimed wood is on the decline and this is one design element that I'm not willing to see as a trend. The handyman husband and I both tend to lean toward clean, sleek lines that border on a very modern aesthetic and it's the warm tones of reclaimed wood that perfectly balances out all the brushed chrome and high gloss white. I still think of the gorgeous mantle we built for our living room renovation in our previous condo. It was a small touch with a big impact.
Now let's talk about some of the trends designers are predicting for 2018 that I am excited about! First, matt black finishes! According to one of my favorite sources, Houzz.com, this look is about to take over the satin brass of yester-year (and yes, husband of mine, if you are reading this, you were right about brass afterall)! Gemma, from the Sweetest Digs, was miles ahead of this curve when designing her dream master bath last year. How gorgeous (and timeless) is this shower?
I am also quite intrigued by dining tables in the kitchen! Could islands really be on the way out? Or is this perhaps another case of deciding what works best in your home.
And last but certainly not least, mill work feature walls and detailing! This is something I am dying to try and have on the list for our master bedroom makeover. How simple, yet dramatic does this wall look?
My good friends at
Durowood Flooring
recently created the same look in a client's living room and I just love the effect!
While we're at it, I have a few predictions of my own! Personally, I think we are just starting to see the possibilities for bold colors in the kitchen and expect to see a lot more lower cabinets and islands in varying shades.  Could the most recent episode of Bryan Inc., with the bold, blue cabinets be a sign of more to come?
I think wallpaper may be on its way out (though, I am still excited to try it in a room or two of my own), as many move toward less fussy options. While it is incredibly gorgeous, people just don't have the time or patience in the land of DIY.
And while some predict that we are shifting away from open concept homes, I tend to think that this is a style that's here to stay. Our society operates at a break-neck pace and an open concept floorplan offers fewer spaces to clean, while providing ample opportunity for time spent together while multitasking (think homework being done in the kitchen while a busy mom makes dinner). I'll be very surprised if we see a shift back toward separate living spaces.
What trends are you looking forward to trying in 2018? What are you definitely ready to say goodbye to?